By Nicki Bourlioufas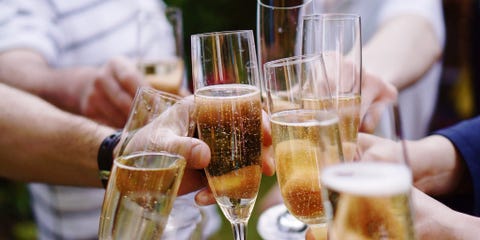 Is bubbly emerging as the modern man's drink of choice? A survey by World Wine Watch reveals one in three male respondents said they don't feel less 'manly' drinking bubbles in front of other men, though most (70%) only drink sparkling wine in the company of a woman – and very few in bed like James Bond.
There are no fixed rules, but plenty of opinions, when it comes to questions of what a real man is or does. Drinking beer is definitely OK, or enjoying a single malt. But how about drinking Champagne? Is it a 'real' man's drink? World Wine Watched asked the question and this is what we got.
Yes, it is. But it depends on the situation. Just 18% of men said they drink sparkling wine as part of a seduction while 67% of male respondents said they generally only drink sparkling wine in the company of a woman. For the other third, one in three men said they feel "less manly' drinking wine in the company of a woman.
Just 12% of men pop a cork to celebrate a business deal. On the other hand, 47% said they drink sparkling wine to celebrate a special occasion such as a birthday, marriage or anniversary.
Australian man and financial analyst, Mathew Hodge, says he regularly drinks Champagne – and he doesn't need any reason other than desire.
"I drink Champagne when I feel like it," he says, naming the 2012 Pol Roger Brut Vintage as a favourite.
"Frankly, I am surprised this 'do real men drink Champagne question' still gets asked. If I am in the mood for it, I'll buy one or open one. And often I will get it with dinner. Occasionally I will order a glass at a restaurant and they will give it to my partner – which is often to the embarrassment of the waiter, but not to me."
Hodge and the Grand Prix aside, when do men pop a cork to celebrate? In bed like Bond serving up Bollinger?
Michael Engelmann, Master Sommelier, serves wine to some of the world's most successful businessmen, formerly at Rockpool in Sydney, now in New York City at WS New York. He often serves Champagne to men and drinks a lot himself.
"We probably sell more champagne when a man is in the company of a woman, or a family reunion. We sometimes have men celebrating a business deal with champagne, but it honestly is more often with a bottle of red."
Data from the Comité Champagne, the trade association for Champagne farmers and producers, indicates the Champagne audience in Australia is literally split 49% (male) to 51% (female).
Showing off wealth
One thing's for sure, a Champagne habit can cost. But that may be part of the appeal for men, who often buy expensive brands to show off their spending power.
A colleague tells me that post COVID-19 lockdown in Sydney, she was standing in a bottle shop waiting to buy a bottle of wine when a businessman cut in front of her in the queue to buy a bottle of Louis Roederer's Cristal, which costs around $400. Responding to his spending power, the shop assistant addressed him as "Sir," like a scene from a James Bond film.
Other notable brands retail for big bucks, including Veuve Clicquot's Le Grande Dame and the old favourite, Dom Pérignon, as well as Krug Vintage, which can set a man or woman back around $250-$300. Cristal Rosé costs more than double that.
If you don't want to break the bank, then drinkers can enjoy Bollinger or Moet & Chandon from around $50 a bottle. Even ALDI are bottling their own for $20 a bottle in Australia, following other big supermarkets globally. So if you steer clear of the Cristal or Krug, Champagne is an affordable luxury. For men and for women.
Not all about beer
Real Australian man, Jonathan Sperling, a father of four sons, tall, blond and sporty, told me when I started researching the topic that he drinks Champagne with his mates, even if going solo. "In my twenties, I would not have ever drunk Champagne, whether out with mates or in unisex company. It was primarily beer or spirits, as this is what signifies the real man, correct? Champagne was always considered a refined and mature ladies' drink, not a young person's drink – especially a bloke's.
"Fast forward 10 years, if we have family coming over I will open a bottle or two of Bollinger to start, then move to wine for the balance of the night. My wife and I tend to frequent a five-star restaurant fortnightly and I always start with a glass or two of Champagne.
"So, yes, I love Champagne and would certainly opt to drink it well above beer or sub-standard wine. At times, other males can give me a bit of a hard time when I order Champagne instead of beer."